NEW - Pet First Aid & Disaster Response

Meet the Faculty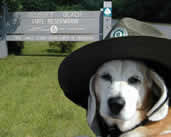 "The Millbury Zoe Bouy"
"Dedicated to Promoting Health and Protecting Life"
The Massachusetts Emergency Care Training Ag/Academy, Inc.
uses a unique approach to instruction in the workplace, general
public or educational facility.
As of March 2009, the faculty are expanding their expertise and offering a "Pet First Aid & Disaster Response" course to the general public.
With input from over 400 United States Veterinarians, Pets America© developed a comprehensive Pet First Aid & Disaster Response guide that teaches one to save the lives of pets and the people who love them by providing education about pet safety and disaster awareness.
A Three Hour Course::
This three hour course teaches the following:
CardioPulmonary Resuscitation (CPR)
Heimlich Maneuver for pets
How to deal with common pet emergencies such as:

Bite wounds
Cuts to pads
Sudden illness
Participants Learn::
To recognize the early warning signs of illness
Tips on preventing health problems
How to stay safe while helping and injured pet
How to assemble a pet first aid and disaster kit


Please call for information regarding the next scheduled class or to schedule one for your family or work area.

Cost: $40.00 Per Person