::American Heart Association CPR On-Line

American Heart Association™
BLS for Healthcare Provider Online Course
Convenient new alternative for completion of the American Heart Association™ BLS for Healthcare
Provider Course. This course meets the criteria for any healthcare provider who is required to obtain
or maintain certification in American Heart Association™ BLS for Healthcare Provider CPR.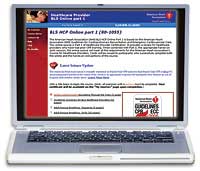 About the BLS Online Course?
The BLS for Healthcare Providers Online Part 1 Course has been updated to reflect new science in the 2010
American Heart Association Guidelines for Cardiopulmonary Resuscitation and Emergency Cardiovascular Care.
This web-based, self-directed course uses case-based scenarios and interactive lessons to teach students about
both single-rescuer and team basic life support. Content taught includes promptly recognizing several life-threatening emergencies, providing high-quality chest compressions, delivering appropriate ventilations and providing early use of an AED. This course may be used for initial or renewal BLS for Healthcare Providers Course completion. Additionally, students have access to all information in the online course for 24 months following activation of their course key.
Successful completion of this course includes three (3) parts:
How long will it take to complete BLS Online?
Participants usually require 1 hour or less, to complete the online portion.
You must also complete the skills testing with an AHA BLS Instructor. This will require more time and is dependent on the individual instructors.
What are the advantages of BLS Online?
Establishes a standardized training program.
Provides training when it is convenient for you (24 hours a day).
Allows instructors to train more people with increased efficiency.
What are the components of BLS Online?
Complete of the online portion (Part 1).
Have an authorized AHA instructor at MECTA complete the skills testing (Part 2).
The AHA instructor will issue the American Heart Association Healthcare Provider CPR certification card.
What is the cost for BLS Online Portion Part 1?
Intended Audience:

This course is designed for healthcare professionals and other personnel seeking an alternative (non-classroom)
method for completing an initial or renewal BLS for Healthcare Providers Course